Meat the Happy Customers
Hands down the best US Angus Ribeye and Porterhouse I've tasted. No regrets choosing the US Angus Top Choice grade from them. Iba yung lasa. Made me stop shopping from our suki nearby.

Richard C.
Mas affordable siya sa previous USDA ribeye we ordered sa supermarket. Will order again next time!

Nellie Chua
Consistent and hassle-free orders. Orderd 3x na and quality has always been consistent. Saikoro Wagyu Cubes are the best!!

Gail T.
Sarap ng Japanese Sausage. Will boil it then try to fry a little. Will order more for my friends soon. Thank you!

Jen
Got the delivery. Super fast. FataSteak na, FastaSteak pa! Good job!

Marilyn Co
I love the steak. Perfect sear! Sayang was not able to take photos but will definitely order again

Maribeth Ong
My wife and I always order the Brazilian Grassfed cuts since we prefer something more organic. We also tried their their Boracay Chori Burger - current fave!!! No need to fly to Boracay 😛

Jeffrey A.
I've had their US Angus Ribeye (top choice) for more than 5x and now looking forward to trying their Prime grade ribeye (for a change!). Can't wait!

Caitline T.
Very professional and consistent. They also helped book a rider for me since I was away from home and wanted to surprise my husband who loves KBBQ. Shortribs Yakiniku + beef samgyupsal + beef sukiyaki = the best combination ever!

Jill M.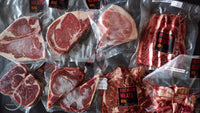 MEAT US
Premium Meats MNL is determined to bring only the best quality meat to your doorstep.
Mixing the best of the best products internationally and locally, Premium Meats MNL has mastered choosing the best marbled meats making sure you're served with nothing but tender, juicy and delicious meat.
Contact Us
SOCIAL MEDIA TESTIMONIALS