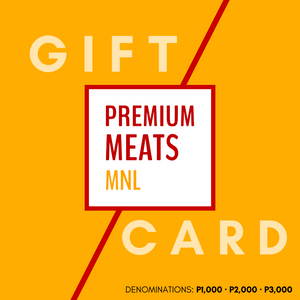 Gift your friends and loved ones a gift card from Premium Meats MNL!
Available in these denominations:
A unique Gift Card code will be given to your account's email after payment is confirmed by Premium Meats MNL. You may send this unique Gift Card code to a family or friend by copying the code found in the link, taking a screenshot or forwarding the email to them. Feel free to use our templates - https://bit.ly/pmmnlgcdesign
Steps to redeem the code:
Customer should order through www.premiummeatsmnl.com
After selecting items and adding to cart, user can Checkout.
Once directed to the page after clicking Checkout, user will be asked to encode a Gift Card code or Discount Code.
Kindly encode the unique Gift Card code. Site will automatically advise the user if the Gift Card is valid or not.
Please note that during redemption, recipient may only use one Gift Card per order. Premium Meats MNL has no visibility on the unique Gift Card codes sent to the customer.
Gift Cards do not expire.