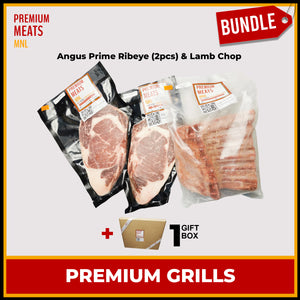 Each set comes with:
Angus Prime Ribeye (2pcs)

Lamb Chops

Gift Box
Angus Prime Ribeye
Best of the best

Ranked among Top 2% of all US Angus

Rich, flavorful and well-marbled



Lamb Chops
Australian lamb chopped per bone for easy-to-cook meals.

Get the distinct taste and deliciousness of lamb at the comforts of your home.

Pair this with our Sous Vide Mashed potato for a fine meal.