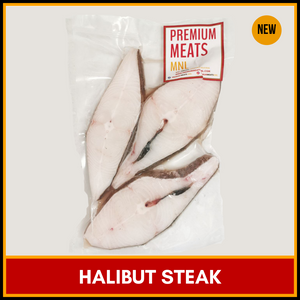 Halibut is a flat, lean fish which has a firm yet tender texture.
For only Php600/pack of 3pcs, you get a great source of omega-3 acids, vitamin B6, B12, protein, and selenium.
This is great to have in your freezer for those quick, light, and healthy meals.
A quick Halibut recipe:

Thaw, use paper towels to dry the Halibut
Season with salt, pepper, paprika, garlic powder
Heat olive oil in pan on medium heat for 2mins
Add the Halibut and cook for 3-4mins per side
Reduce to low heat - Add butter on the same pan and heat for 2-3mins or until butter is browned
Squeeze some lemon on to the fish. Drizzle some lemon butter sauce onto the halibut for 3-4mins while on low heat.