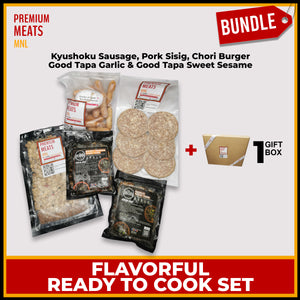 Each set comes with:
Kyushoku Sausage

Pork Sisig

Chori Burger

Good Tapa Garlic

Good Tapa Sweet

Gift Box
Kyushoku Sausage
A favorite Japanese breakfast.

Crispy skin and juicy pork sausage inside.

Eat plain or mix with curry or other dishes. Goes well with rice, too!

Comes in 400g packs for easier consumption. Can't finish it? Don't worry, store leftovers in the freezer and enjoy another time!



Pork Sisig
Have Flavorful, restaurant-quality Pork Sisig at the comforts of your home!

Made with quality pork, seasoned with special herbs and spices giving it its unique taste the family will love.

Each pack comes with 200-250g of Pork Sisig + Crispy garlic garnish
Chori Burger
These Chori Burgers are reminiscent of the good ole Boracay fun - except they're healthier. Made with pure ham and without zero additives, these Chori burgers are great with any carb of your choice. Each piece is extremely flavorful and will leave you wanting more.

All packs come vacuum packed with 6pcs each great for sharing with another person or a family.



Good Tapa Garlic & Good Tapa Sweet
Voted Top 10 Tapsilog by Spot PH 2019

250 grams per pack

Made with Premium Sukiyaki Angus Beef

Available in Original, Sweet Sesame, Garlic or Spicy flavors

No preservatives

No nitrates

Shelf life: 6 months in freezer, 2 weeks in refrigerator