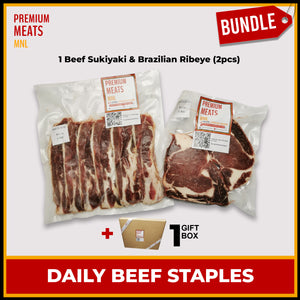 Each set comes with:
1 Beef Sukiyaki

Brazilian Ribeye (2pcs)

Gift Box
Beef Sukiyaki
The Sukiyaki cut entails cutting the beef thinly (around 1mm) at a right angle that makes the beef tasty and easy to bite. This makes any beef cook faster, allowing you to enjoy your meal in a very short amount of time.

This is perfect for your hotpot, gyudon, or other similar easy yet flavorful meals you wish to cook up. Pair it with our pork sukiyaki for some variety!
Brazilian Ribeye
Cut: Brazilian Grass-fed Rib-eye
Thickness: ¾ IN.
Origin: Brazil
Weight: varied

The Brazilian Grass-Fed Rib-eye is a good choice for your daily steaks mixed with much flavor from the right amount of fat and marbling intertwined with lean meat.

The rib-eye cut is the most tender and juicy part of the cow. It is known for great marbling, making every bite delicious and tender.