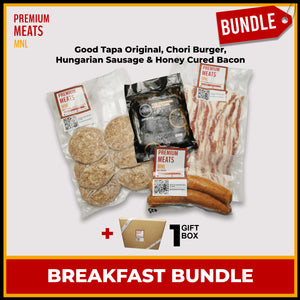 Each set comes with:
Good Tapa Original

Chori Burger

Hungarian Sausage

Honey Cured Bacon

Gift Box
Good Tapa Original
Voted Top 10 Tapsilog by Spot PH 2019

250 grams per pack

Made with Premium Sukiyaki Angus Beef

Available in Original, Sweet Sesame, Garlic or Spicy flavors

No preservatives

No nitrates

Shelf life: 6 months in freezer, 2 weeks in refrigerator



Chori Burger
These Chori Burgers are reminiscent of the good ole Boracay fun - except they're healthier. Made with pure ham and without zero additives, these Chori burgers are great with any carb of your choice. Each piece is extremely flavorful and will leave you wanting more.

All packs come vacuum packed with 6pcs each great for sharing with another person or a family.



Hungarian Sausage
Each pack of our Hungarian sausage (2 pieces per pack) is perfect for a person's meal - not too big and not too small, you can expect a hearty, flavorful meal with each pack.

Each one is made with the right mix of ground meat and spices so it's easy to pair with any other dish or Carb of your choice.



Honey Cured Bacon
Our Honey Cured Bacon are all cured with premium honey, and not just sugar. Each pack is vacuum sealed to retain all flavor and freshness and are ready to cook. You're guaranteed of a delicious quick-to-cook meal with this one!