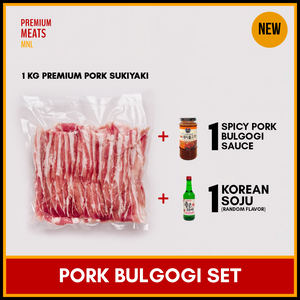 Includes: 1kg pork sukiyaki, 290mL (spicy) pork bulgogi sauce, soju
Each pack of meat comes vacuum packed
Each slice are 1mm thick, perfect for bulgogi, hotpot, gyudon, etc
The Sukiyaki cut entails cutting the pork thinly (around 1mm) at a right angle that makes the beef tasty and easy to bite. This makes any beef cook faster, allowing you to enjoy your meal in a very short amount of time.

This is perfect for your bulgogi - with the perfect bulgogi marinade! If you have leftover frozen meat, you can use it for your next delicious meals - hotpot, gyudon, or other similar easy yet flavorful meals you wish to cook up.

Get this set and fret no more about your your meat's quality, marinade and drinks. This already comes with 1kg pork sukiyaki, 290mL pork bulgogi sauce, and Soju! Pair this with our Beef Sukiyaki, Galbi set, or upgrade to the complete sets for a full Korean meal.